Artists' Forum Presents:
Paul Thorn in March 29 Concert
at Kalamazoo Valley
The Artists' Forum series at Kalamazoo Valley Community College presents Mississippi-bred singer Paul Thorn in concert with his full band at 7:30 p.m. on Sunday, March 29, 2015 in Dale B. Lake Auditorium.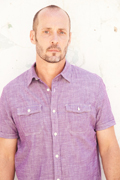 Thorn's new album "Too Blessed to Be Stressed," released in August, stakes out new territory for the popular roots-rock songwriter and performer. The former prizefighter and son of a preacher explains his inspiration behind this album, "This time, I've written 10 songs that express more universal truths, and I've done it with a purpose: to make people feel good."

In the acoustic-electric charmer "Rob You of Your Joy," Thorn dispenses advice on avoiding the pitfalls of life. The title track borrows its tag from a familiar saying among the members of the African-American Baptist churches Thorn frequented in his childhood. "I'd ask, 'How you doin', sister?' And what I'd often hear back was, 'I'm too blessed to be stressed.'"

"My father was a preacher, so I went with him to churches that white people attended and churches that black people attended," Thorn says. "The white people sang gospel like it was country music, and the black people sang it like it was rhythm and blues. But both black and white people attended my father's church, and that's how I learned to sing mixing those styles." In the hands of Thorn and his faithful band, who've been together 20 years, the tune applies its own funky balm, interlacing a percolating drum and keyboard rhythm with the slinky guitar lines beneath his playful banter. It helps that those big vocal hooks on "Too Blessed to Be Stressed" are being reinforced by the sound of Thorn's flexible and dynamic band, as they have been doing for years in concert. "These guys really bring my songs to life," says Thorn. "My albums sound like they're played by a real blood-and-guts band because that's what we are. And when we get up on stage, people hear and see that."

Thorn's 2012 release, "What the Hell is Goin' On?" was one of the most played CDs that year on Americana radio and contributed to his rapidly growing fan base. Thorn followed that airplay success with his current AAA-radio hit version of Doctor My Eyes from April 2014's Looking Into You: A Tribute To Jackson Browne. The latter also features Grammy winners Bruce Springsteen, Bonnie Raitt, Lyle Lovett, the Indigo Girls, Lucinda Williams, Keb' Mo', Ben Harper and Don Henley.

Thorn possesses the ability to charm an audience right from the start with both the music he plays and the stories he tells from the stage. "Showmanship is a dying art that I learned from watching Dean Martin on TV when I was a kid," Thorn explains. "He could tell little jokes and then deliver a serious song, then make you laugh again. And he would look into the camera like he was looking right at you through the TV. That's what I want to do — make people feel like I'm talking directly to them."

Tickets to Thorn's Kalamazoo performance are $20 each and will be on sale beginning on Jan. 25. For tickets, contact Texas Township Campus bookstore at 269.488.4030 or the bookstore at Anna Whitten Hall at 269.373.7951. Tickets may also be ordered online at bookstore.kvcc.edu.

For additional ticket purchasing options call Artists' Forum chairman and Dave Posther at 269.488.4476.
---
Since its inception in 1986, Kalamazoo Valley Community College's Artists' Forum Performance Series has exposed the Kalamazoo community and the students of Kalamazoo Valley to a widely diverse array of musicians, artists, writers, actors, singers, dancers and social commentators. The intent of the program has always been to provide stimulating cultural events that expand on the community's mainstream entertainment offerings.
Through funding provided by The Gilmore Foundation, The Harold and Grace Upjohn Foundation and Kalamazoo Valley Community College, Artists' Forum has established a performance series that both reflects the Kalamazoo community and broadens the perspective of the performing arts. And this funding has been crucial in keeping the events affordable and accessible to the entire spectrum of the population.
Art should always inspire us, but its ultimate impact should be to nurture and guide us in our daily lives. And this ultimately is also the role of the Community College.
Current Chair
Dave Posther, Chair of the Art Department and Lead Instructor in Photography and Film at Kalamazoo Valley, is the current chair of Artists' Forum and has been involved in the program since 1988.
Posther has been an instructor at KVCC since 1988. He received both his Bachelors and Masters degrees from Western Michigan University. Prior to 1988, he was a full-time photographer for over fifteen years. During that time he exhibited and sold his work in galleries and shows throughout the United States, did commercial and portrait work, and taught at the Kalamazoo Institute of Arts.
Contact Posther at dposther@kvcc.edu to suggest a performer or to be added to a mailing list for information regarding upcoming performances.