Stax-style, Southern Soul, Raw Funk
Ruby Velle and the Soulphonics
comes to Kalamazoo Valley
Kalamazoo Valley Community College's Artists' Forum welcomes the next in its highly anticipated series - the stax-style, southern soul, raw funk stylings of Ruby Velle and the Soulphonics on March 31, 2017 at 7:30 p.m. in the Dale B. Lake Auditorium on the college's Texas Township Campus. Tickets are $15.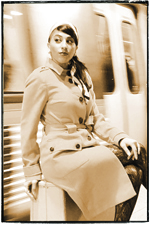 Heirs to the thrones of the old-school masters, Atlanta's Ruby Velle and the Soulphonics are much more than a group of revivalists trying to create a period piece. She is a powerhouse vocalist and her band settles for nothing less than bringing classic sounds glimmering into the now with a fresh new modern sheen. Making a name for themselves and captivating audiences with their stirring live performances, this world-class modern soul revue topped off with the cherry of Velle's sultry voice have opened for megastars such as Aretha Franklin and The Temptations and have shared the stage with the likes of Erykah Badu and Kendrick Lamar.

After much time in the studio, their debut album "It's About Time" was released in 2012 and was universally praised by rock, pop and hip hop outlets with its single "My Dear" selling a quarter-million downloads on iTunes and landing them in the top 30 on Billboard's Heatseeker charts and at a stunning #4 on the iTunes R&B charts. "My Dear" was also featured as an iTunes Single of the Week, propelling it to the top of the R&B charts alongside artists like Usher and Amy Winehouse and continues to make the rounds in the underground DJ culture. Scoring critical acclaim from outlets such as The New York Daily News, MTV, Paste and more at a time when record sales were at an all-time industry low, the independent, DIY-minded Velle and the Soulphonics sold a quarter-million downloads of their single "My Dear" on iTunes, landing them in the top 30 on Billboard's Heatseeker charts and at a stunning #4 on the iTunes R&B charts when their debut album It's About Time was released in 2012. This success took Ruby Velle and the Soulphonics from being one of the most popular local acts in Atlanta to a being a player on the national stage. The band's first release after "It's About Time," 7-inch single "Heartlite" was featured by Starbucks as its "Pick of the Week" during Christmas 2012, and was playable on every Starbucks log-in screen in the world. Delta Airlines also picked up the song, making it available to listen on all flights. Currently, Ruby Velle and the Soulphonics are in the studio laying down the songs that will make up their forthcoming sophomore release.

Tickets are available at http://bookstore.kvcc.edu/shop_main.asp, at the Texas Township Campus bookstore (269.488.4030) or by contacting Dave Posther at 269.488.4476. Concert doors open at 6:45 p.m.
---
Since its inception in 1986, Kalamazoo Valley Community College's Artists' Forum Performance Series has exposed the Kalamazoo community and the students of Kalamazoo Valley to a widely diverse array of musicians, artists, writers, actors, singers, dancers and social commentators. The intent of the program has always been to provide stimulating cultural events that expand on the community's mainstream entertainment offerings.
Through funding provided by The Gilmore Foundation, The Harold and Grace Upjohn Foundation and Kalamazoo Valley Community College, Artists' Forum has established a performance series that both reflects the Kalamazoo community and broadens the perspective of the performing arts. And this funding has been crucial in keeping the events affordable and accessible to the entire spectrum of the population.
Art should always inspire us, but its ultimate impact should be to nurture and guide us in our daily lives. And this ultimately is also the role of the Community College.
Current Chair
Dave Posther, Chair of the Art Department and Lead Instructor in Photography and Film at Kalamazoo Valley, is the current chair of Artists' Forum and has been involved in the program since 1988.
Posther has been an instructor at KVCC since 1988. He received both his Bachelors and Masters degrees from Western Michigan University. Prior to 1988, he was a full-time photographer for over fifteen years. During that time he exhibited and sold his work in galleries and shows throughout the United States, did commercial and portrait work, and taught at the Kalamazoo Institute of Arts.
Contact Posther at dposther@kvcc.edu to suggest a performer or to be added to a mailing list for information regarding upcoming performances.