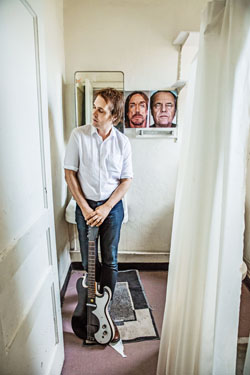 Artists' Forum Presents Chuck Prophet and the Mission Express on March 16
Kalamazoo Valley's Artists' Forum presents Chuck Prophet and the Mission Express, Saturday, March 16 at 7:30 p.m. in Dale B. Lake Auditorium at the Texas Township Campus.
Prophet describes his new album 'Bobby Fuller Died For Your Sins' as a "California Noir," an album inspired partly by the mysterious death of rocker Bobby Fuller in LA in 1966. "California has always represented the Golden Dream, and it's the tension between romance and reality that lurks underneath the surface in all noir films and paperbacks, and that connects these songs."
Gritty and jangly, the album features 13 original works that explore doomed love, loneliness and fast paced violence via Chuck's muscular songwriting craft. They include songs about Fuller, the death of David Bowie, and the killing of a San Francisco security guard named Alex Nieto that drew international headlines as "Death By Gentrification."
'Bobby Fuller' finds Prophet coming full circle. He cut the album to tape at Hyde Street Studio in San Francisco, which also happens to be the same studio where Prophet did his very first recording session, while still in high school. He brought out his '64 Stratocaster for the sessions, conjuring a sound that Jonathan Richman once described as "gasoline in the sand, like a motorcycle at a hot dog stand." He's backed by The Mission Express, a band featuring his wife Stephanie Finch (vocals, keyboards, guitar), Kevin White (bass), Vicente Rodriguez (drums, vocals) and James DePrato (guitar).
Lead single "Bad Year For Rock and Roll" is a timely homage to rock greats lost in 2016: "The Thin White Duke took a final bow / there's one more star in the heavens now/I'm all dressed up in a mohair suit / watching Peter Sellers thinking of you." "Jesus Was A Social Drinker" starts as a punchy mid tempo rocker with clanking cowbell before unfurling into an explosive, psychedelic coda. "Alex Nieto" is what Chuck refers to as his first protest song. It's "an homage to a good man who should still be alive," said Prophet.
Since its inception in 1986, Kalamazoo Valley Community College's Artists' Forum Performance Series has exposed the Kalamazoo community and the students of Kalamazoo Valley to a widely diverse array of musicians, artists, writers, actors, singers, dancers and social commentators - including Mavis Staples, Ladysmith Black Mambazo, Patty Griffin, David Sedaris and Morris Dees.
"Through partial funding provided by The Gilmore Foundation, The Harold and Grace Upjohn Foundation and Kalamazoo Valley Community College, Artists' Forum has established a performance series that reflects the Kalamazoo community and broadens the perspective of the performing arts," said Dave Posther, Chair of Artists' Forum and Kalamazoo Valley photography and film instructor.
Tickets are available at www.kvcc.edu/artistsforum, at the Texas Township Campus bookstore (269.488.4030) or by contacting Dave Posther at 269.488.4476. Doors open at 6:45 p.m.
Current Chair
Dave Posther, Chair of the Art Department and Lead Instructor in Photography and Film at Kalamazoo Valley, is the current chair of Artists' Forum and has been involved in the program since 1988.

Posther has been an instructor at KVCC since 1988. He received both his Bachelors and Masters degrees from Western Michigan University. Prior to 1988, he was a full-time photographer for over fifteen years. During that time he exhibited and sold his work in galleries and shows throughout the United States, did commercial and portrait work, and taught at the Kalamazoo Institute of Arts.

Contact Posther at dposther@kvcc.edu to suggest a performer or to be added to a mailing list for information regarding upcoming performances.