The Cactus Blossoms Bring
Classic Folk/Country Sound
to Kalamazoo Valley
Kalamazoo Valley Community College's highly anticipated 2017 Artists' Forum Series presents The Cactus Blossoms in concert Friday, February 17, 2017 in the Dale B. Lake Auditorium on the Texas Township Campus at 7:30 p.m.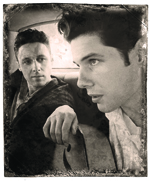 Minnesota natives and brothers Page Burkum and Jack Torrey make up the Cactus Blossoms. The guitar strumming siblings' southern harmonies have brought them from the dusty bars of northeast Minneapolis to the national stage – with their latest album "You're Dreaming."

The duo grew up listening to pop radio and classic Beatles albums, sharing a taste for vintage country and folk tunes. In 2010 they began playing old-school country and folk classics with a mix of original tunes, later releasing their self-titled debut album in 2011, landing them residency at St. Paul, Minnesota's Turf Club. The standing gig expanded the Blossoms' following in the Twin Cities, with highlights from their run of shows collected on a live album, 2013's Live at the Turf Club. As the live album gained positive press and additional exposure, the pair widened their touring schedule, playing clubs as headliners, sharing the bill with other acts in bigger halls.

In 2015, The Cactus Blossoms struck a deal with Red House Records, a St. Paul-based roots music label, and teamed up with musician and producer JD McPherson to begin work on their first album for the label. "You're Dreaming", released in January 2016, was named one of the most anticipated country albums of 2016 by Rolling Stone.

In addition to Rolling Stone, The Cactus Blossoms has garnered national press ranging from "Artist to Watch," NPR Heavy Rotation, and NPR All Things Considered to Folk Alley, Noisey, Garden & Gun, CMT and A Prairie Home Companion, whose host Garrison Keillor called them, "The brother duet that America is waiting for."

Tickets are $15 and go on sale January 17 online at www.kvcc.edu/artistsforum or by calling the Texas Township Campus bookstore at 269.488.4030. Tickets may also be ordered online here.

For additional concert or ticket information, call Dave Posther at 269.488.4476. Media may also contact him at dposther@kvcc.edu.
---
Since its inception in 1986, Kalamazoo Valley Community College's Artists' Forum Performance Series has exposed the Kalamazoo community and the students of Kalamazoo Valley to a widely diverse array of musicians, artists, writers, actors, singers, dancers and social commentators. The intent of the program has always been to provide stimulating cultural events that expand on the community's mainstream entertainment offerings.
Through funding provided by The Gilmore Foundation, The Harold and Grace Upjohn Foundation and Kalamazoo Valley Community College, Artists' Forum has established a performance series that both reflects the Kalamazoo community and broadens the perspective of the performing arts. And this funding has been crucial in keeping the events affordable and accessible to the entire spectrum of the population.
Art should always inspire us, but its ultimate impact should be to nurture and guide us in our daily lives. And this ultimately is also the role of the Community College.
Current Chair
Dave Posther, Chair of the Art Department and Lead Instructor in Photography and Film at Kalamazoo Valley, is the current chair of Artists' Forum and has been involved in the program since 1988.
Posther has been an instructor at KVCC since 1988. He received both his Bachelors and Masters degrees from Western Michigan University. Prior to 1988, he was a full-time photographer for over fifteen years. During that time he exhibited and sold his work in galleries and shows throughout the United States, did commercial and portrait work, and taught at the Kalamazoo Institute of Arts.
Contact Posther at dposther@kvcc.edu to suggest a performer or to be added to a mailing list for information regarding upcoming performances.