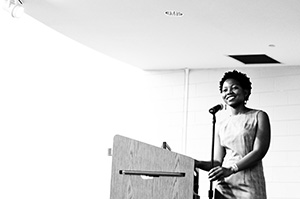 Kalamazoo Valley's "About Writing" Visiting Writers series is coordinated by English instructor Rob Haight and offers students the opportunity to talk with professional writers and listen to their work. Haight has been bringing noteworthy authors to the college since 2001.

The visits are free and open to the public and always include a craft talk and a reading.
Upcoming Visits
Mardi Jo Link, who is slated to be here on Wednesday March 28 and Thursday March 29, readings at 10:00 a.m., talks at 2:15 p.m. in the Commons. To prepare for her visit, many English classes will read her memoir "Bootstrapper: From Broke to Badass on a Northern Michigan Farm" as a book in common for winter.
Previous Visits
News Stories
Alumna NoViolet Bulawayo Returning for Kalamazoo Valley's Visiting Writers Series