Chelsea Packard:
A Future Nurse with a Grateful Heart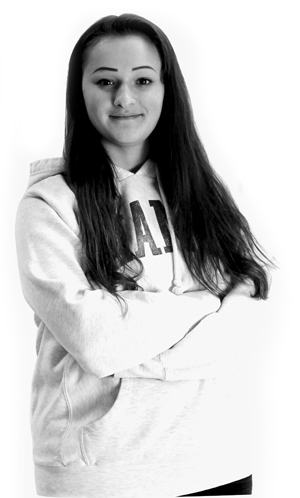 Kalamazoo Valley nursing student Chelsea Packard is the daughter of an assistant high school principal. The 19-year-old Kalamazoo Central High School graduate is a dedicated student who inherited her mom's quest for learning.
Even though she always knew she was destined for college, a move from Bay City to Kalamazoo three years ago created financial struggles for Packard and her mother, Dana Heyl. A $2,000 scholarship from the Kalamazoo Valley Community College Foundation took some of the pressure off and allowed Packard to focus on her studies.
"I'm trying to pay for school all on my own while juggling car insurance and the phone bill and other things," said Packard. "I've never been so grateful to receive something. It meant a lot because my mom and I are really struggling right now and school has been hard to afford." In addition to maintaining two cars, the two women are managing two mortgages because their house in Bay City is still on the market.
Packard works as much as she can, but school has always been her top priority. "Attending Kalamazoo Valley Community College was the best decision I've ever made," she said. "Not only do I get amazing support from the institution itself, but I also receive great support from my professors and my counselor, who truly have my best interest at heart."
She said her experiences have reinforced her desire to work as a nurse. "Throughout the past couple of years I've had the chance to really find myself. I always knew I wanted to work in the health care system because when I was three years old, my grandpa had a heart attack and wasn't expected to live. Yet, some miracle allowed me to get to know him and spend time with him to this day. That was the basis of my need to get into health care," she said.
Packard considers her Foundation scholarship a tremendous gift because it enhances her ability to keep on learning. "Education isn't about what you've learned but what you do with the information you've been taught," she said. "At Kalamazoo Valley, I've learned some of the most important life lessons that I'll take with me forever. I am sincerely thankful."
The Kalamazoo Valley Community College Foundation, an independent 501 (c) (3) charitable organization, is one way the college works to assist students with financial needs. The Foundation was established in 1980 to accept and administer unrestricted contributions and those designated for specific purposes, such as student scholarships, the purchase of equipment to improve instruction, and the construction of new facilities.
The Foundation's annual Opportunities for Education dinner is hosted each spring and is the main source of funding for the Foundation. For more information or to contribute to the Foundation, go to www.kvcc.edu/foundation/support.htm.