Sustainable Moves Committee | Green Cleaning Policy
KVCC intends to reduce the exposure of building occupants and maintenance personnel to potentially hazardous chemical, biological, and particulate contaminants by adopting a Green Cleaning Policy. Protocols include: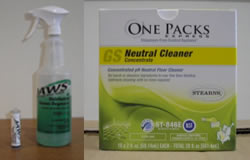 Establish standard operating procedures addressing an effective cleaning and hard floor and carpet maintenance system
Develop strategies for promoting and improving hand hygiene
Develop guidelines addressing the safe handling and storage of cleaning chemicals
Develop requirements for staffing and training of maintenance personnel
Auditing of the appearance and cleanliness of all areas on a quarterly basis using the APPA Custodial Staffing Guideline Standards
Collect occupant feedback and continuous improvement
Why a Green Cleaning Policy?
We recognize that green cleaning is a significant component of indoor air quality, and that the contribution of indoor air quality to employee productivity is significant. We are committed to devoting the time and resources to perform these functions at an exemplary level. It is our policy to ensure that our buildings operate in an environmentally responsible manner and we demonstrate good environmental stewardship within our community.
If you would like to be a part of this important committee please contact Ted at 269-488-4284 or e-mail him