Sustainable Moves Committee | Native Grass Plantings
KVCC has joined the Southwest Michigan Regional Sustainability Convenant, a group of like-minded organizations dedicated to an improved quality of life in this part of the state through actions and collaborations that promote environmental, economic and social responsibility. One of the initial impacts at KVCC has been native planting.
Benefits of sustainable landscapes include reduced erosion; reduced runoff volume; reduced or eliminated herbicides, pesticides and fertilizers from runoff; increased numbers of plant and animal species; conservation of native plants and animals; increased property values; limited maintenance of established landscape.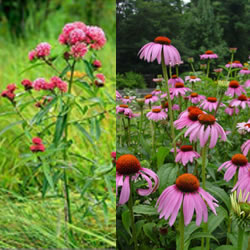 Why native grass plantings? Landscaping with native plants improves the environment. Native plants are hardy because they have adapted to local conditions. Once established, native plants do not need pesticides, fertilizers, or watering. Not only is this good for the environment, it saves time and money as well.
If you would like to be a part of this important committee please contact Ted at 269-488-4284 or e-mail him