Sustainable Moves Committee | Institution-wide Paper Recycling
KVCC's commitment to recycling the mountains of paper required for daily operations is strong. It's not that tough to do. All that is required is a little patience and a sense that one is doing the right thing.
Why paper recycling? Each time a tree is saved through the use of recycled paper, so is an oxygen generator.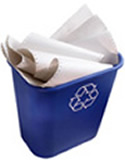 Blue paper recycling containers are located throughout KVCC, and just about every piece of paper that comes our way CAN be recycled.

Sample recyclable items include: newspapers, business cards, hard-cover books, copy paper, index cards, trade journals and magazines, and cardboard.
If you would like to be a part of this important committee please contact Ted at 269-488-4284 or e-mail him