Kalamazoo Promise Services
Kalamazoo Promise Services offers student support to Kalamazoo Promise eligible students. Through a series of appointments students are assisted in successfully completing their academic goals at Kalamazoo Valley. Students can schedule recurring appointments to stay updated on their academic progress which can help ensure successful goal completion.
Kalamazoo Promise Services is located within the Student Success Center, Room 9300, on the Texas Township Campus. Services are also provided at Anna Whitten Hall, Room 120, the first and third Thursday of the month from 8 a.m.-5 p.m.
Your Kalamazoo Promise Coach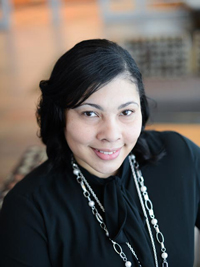 Monteze Morales, Promise coach, is your Kalamazoo Promise contact person on campus. Serving as a mentor, she will help navigate the college system and meet with you through regularly scheduled appointment, to ensure that you are staying on track. To initiate the use of the Kalamazoo Promise at Kalamazoo Valley, you must schedule an appointment with her to turn in your Kalamazoo Promise Scholarship Acceptance Form. She can be reached at or 269.488.4040.
10 Things You Need to Know about the Kalamazoo Promise
The Kalamazoo Promise is for ALL students of the Kalamazoo Public Schools, but only for KPS students. Students who attend charter schools do not earn credit toward Kalamazoo Promise scholarships during the time that they are in these non-KPS schools.
You must reside within the boundaries of Kalamazoo Public Schools.
You must have at least all of the high school years (9-12) in KPS (enrollment and residency must be continuous) and graduate from KPS (Kalamazoo Central/Loy Norrix/Phoenix).
The Kalamazoo Promise will not end.
The Kalamazoo Promise is a four-year scholarship (a bachelor's degree or 130 credits, whichever occurs first).
You have 10 years from the time you graduate from high school to use your Promise and can start and stop at any time.
The Kalamazoo Promise covers tuition and mandatory fees.
Students sign up for The Kalamazoo Promise at the beginning of their senior year. Meeting are held for all seniors each fall. There are two simple forms to fill out for the Kalamazoo Promise.
There is an appeal process for students during their senior year, especially for hardship cases (e.g. custody, death in the family, and foster care placement).
All students using the Kalamazoo Promise at Kalamazoo Valley may attend part time.
To learn more about the Kalamazoo Promise, visit www.kalamazoopromise.com.