Transfer Resource Services
Transfer Resource Services at Kalamazoo Valley Community College offers information, referrals and services to assist students in successfully transferring to Michigan colleges or universities of their choice during or after completing their education at KVCC.
Services include:
Peer mentors available to provide information on student and campus life
Campus visits and tours of colleges and universities throughout Michigan
Transfer workshops both at KVCC and at other college sites
Informational resources such as catalogs, view books, brochures, and websites
Referrals and contact information about the people on other campuses poised to help
On-site admissions
The services of Transfer Resource Services are free to all KVCC students.
If you are seeking info about TRANSFER COURSE WORK, contact Counseling
KVCC students after a Campus Visit to GVSU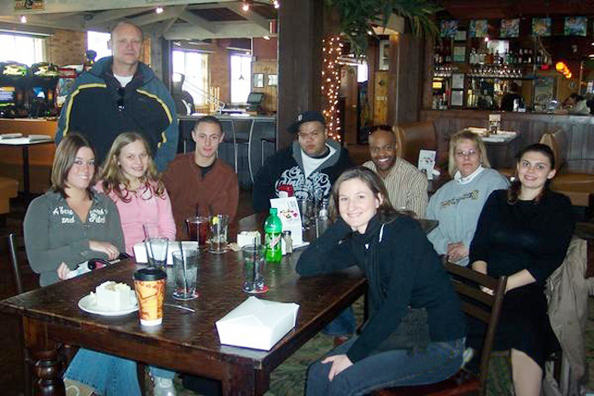 Ezra Bell (Transfer Coach) with KVCC students utilizing
Transfer Resource Services.
Ezra is the fifth person seated from the left.
Transfer students: Click here
Admissions Office: 110 South Madison Street, Adrian - MI 49221
Ph: 517-265-5161 Ext. 4326

Transfer Students Click here
Admissions Office: 611 East Porter Street - Albion, MI 49224
Ph: 517-629-0569

Transfer students: Click here
Admissions Office: 614 W. Superior St. - Alma, MI 48801
Ph: 1-800-321-ALMA

Transfer students: Click here
Admissions Office: Berrien Springs, MI
Ph: 1-800-253-2874

Transfer students: Click here
Admissions Office: 1607 Robinson Road S.E. - Grand Rapids, MI 49506-1799
Ph: 616-632-2900

Transfer students: Click here


Transfer Students: Click here
Admissions Office: 3201 Burton Street - SE Grand Rapids, MI 49546
Ph: 616-526-6106

Transfer Students: Click here
Admissions Office: 3750 Cleary Drive - Howell, MI 48843
Ph: 800-686-1883

Transfer Students: Click here
Admissions Office: 201 East Kirby - Detroit, MI 48202
Ph: 313-664-7425

Transfer Students: Click here
Admissions Office: 4090 Geddes Road - Ann Arbor, MI 48105
Ph: 734-995-7521

Transfer Students: Click here
Admissions Office: 1001 East Beltline Ave-NE Grand Rapids, MI 49525
Ph: 616-222-1426

Transfer Students: Click here
Admissions Office: 4123 W Main St - Kalamazoo, MI 49007
Ph: 269-382-2835

Transfer Students: Click here
Admissions Office: 601 Quincy Street - Hancock, MI 49930
Ph: 800-682-7604

Transfer Students: Click here
Admissions Office: 33 East College St. - Hillsdale, MI 49242
Ph: 517-437-7341

Transfer Students: Click here
Admissions Office: 69 East 10th Street - Holland, MI 49422
Ph: 616-395-7850

Transfer Students: Click here
Admissions Office: 1200 Academy Street - Kalamazoo, MI 49006-3295
Ph: 269-337-7166

Transfer Students: Click here
Admissions Office: 1700 West Third Avenue - Flint, MI 48504
Ph: 810-762-7496

Transfer Students: Click here
Admissions Office: 21000 West Ten Mile Road - Southfield, MI
Ph: 1-800-CALL-LTU

Transfer Students: Click here
Admissions Office: 36600 Schoolcraft Road - Livonia, MI 48150
Ph: 734-432-5317

Transfer Students: Click here
Admissions Office: 8425 W. McNichols - Detroit, MI 48221
Ph: 313-927-1200

Transfer Students: Click here
Admissions Office: 450 North Avenue - Battle Creek, MI 49017-3397
Ph: 269-660-8021

Transfer Students: Click here
Admissions Office: 4000 Whiting Drive - Midland, MI 48640
Ph: 989-837-4273

Transfer Students: Click here
Admissions Office: 320 S. Main St. - Olivet, MI 49076
Ph: 1-800-456-7189

Transfer Students: Click here
Admissions Office: Online
Ph: 866-766-0766

Transfer Students: Click here
Admissions Office: 800 West Avon Road - Rochester Hills, MI 48037
Ph: 248-218-2000

Transfer Students: Click here
Admissions Office: 1247 E. Siena Heights Dr. - Adrian, MI 49221
Ph: 800-521-0009

Transfer Students: Click here
Admissions Office: 106 E. Main St. - Spring Arbor, MI
Ph: 800-968-0011

Transfer Students: Click here
Transfer Students: Click here
Admissions Office: 4001 West McNichols Road - Detroit, MI 48221
Ph: 313-993-1245

Transfer Students: Click here
Transfer Students: Click here
Admissions Office: PO Box 7006 - Troy, MI 48007 Ph: 248-823-1209
Transfer Students: Click here
Admissions Office: Warriner Hall 102 - Mt. Pleasant, MI 48859
Ph: 989-774-3076

Transfer Students: Click here or browse Catalog
Transfer Students: Click here
Admissions Office: 400 Pierce Hall - Ypsilanti, MI 48197 Ph: 734-487-3060

Transfer Students: Click here
Admissions Office: 1201 South State St. - CSS201 Big Rapids, MI 49307
Ph: 231-591-2797
Ferris movie
Kendall movies (Alumni, Professors, President, Students)

Transfer Students: Click here
Admissions Office: 1 Campus Drive - Allendale, MI 49401
Ph: 616-331-2025

Transfer Students: Click here
Admissions Office: 650 West Easterday Ave - Sault Saint Marie, MI 49783
Ph: 906-635-2670

Transfer Students: Click here
Admissions Office: 250 Administration Building - East Lansing, MI 48824
Ph: 517-355-8332

Transfer Students: Click here
Admissions Office: 1400 Townsend Drive - Houghton, MI 49931
Ph: 906-487-2335

Transfer Students: Click here
Admissions Office: 1401 Presque Isle Avenue - Marquette, MI 49855
Ph: 906-227-2650

Transfer Students: Click here
Transfer Students: Click here
Admissions Office: 101 North Foundation Hall - Rochester, MI 48309
Ph: 248-370-4467

Transfer Students: Click here
Admissions Office: 7400 Bay Road - University Center Saginaw, MI 48710
Ph: 989-964-4200

Transfer Students: Click here
Click here for a sample aid package from the Office of Financial Aid
Admissions Office: 515 East Jefferson - Ann Arbor, MI 48109 Ph: 734-764-7433

Transfer Students: Click here for info or watch movie
Admissions Office: 3E HNJ - Detroit, MI 48202 Ph: 313-577-7536

Transfer Students: Click here
Admissions Office: 1903 West Michigan Ave - Kalamazoo, MI 49001
Ph: 269-387-2000 Talk2wmu
Transfer Notes